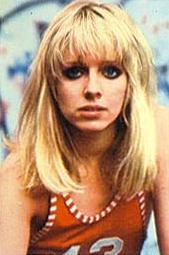 PHASES OF TRAVEL
- the Ellen Foley website -
'Phases Of Travel' is an illustrated guide to Ellen Foley's singing and acting career, based on my research for what was going to be a one-off fanzine back in the mid-90s. In the end, high postage and printing costs effectively killed the fanzine, but since the material was already written it made sense to publish it on the internet instead.
I welcome correspondence from other Ellen Foley fans - do not hesitate to get in touch if you have any comments to the material already published - or just to say hi!

- click here for more information!

---
- TABLE OF CONTENTS -
---
Click here for the latest Ellen Foley collectors news!



Ellen Foley - 1979 promo photo
(Cleveland International)

(1) ELLEN FOLEY biography - enter!
This is the biography I wrote for the Ellen Foley Fan Pages.

(2) ELLEN FOLEY worldwide discography - enter!
This is the discography i compiled for the Ellen Foley Fan Pages. I am currently working on a major update. Watch this space!

(3) ELLEN FOLEY picture sleeve gallery - enter!
Illustrated guide to Ellen Foley picture sleeve singles from all over the world!

(4) ELLEN FOLEY magazine index - enter!
This index list magazines with Ellen Foley interviews - and offers you a chance to read them as well!

(5) ELLEN FOLEY tour date listing - under construction
Details of Ellen's solo tours, and profiles of members in her touring bands.

(6) ELLEN FOLEY in television - under construction
Here you will find details of Ellen's promo videos, and a list of her interviews and live appearances on television.

(7) ELLEN FOLEY in films & musicals - under construction
A comprehensive guide to Ellen's acting career.
---
Copyright © 2001 - 2004